Iconex invests in more Martin Automatic technology - to continue its long-running partnership
Posted: November 15, 2023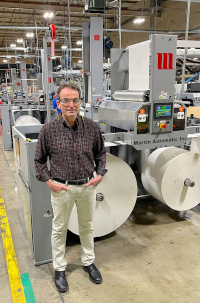 Jim Price says Iconex's 30-year-old Martin butt splicer still never misses a beat
"We installed our first Martin butt splicer in 1991 and it still never misses a beat," said Jim Price, Director of Technical Innovation at Georgia-based Iconex LLC. Over the past 32 years, the company, which is the largest global supplier of receipts and a leading label manufacturer, has added numerous Martin splicers company-wide. Selecting the right technology has been critical to Iconex's success, as driving operational efficiency is at the heart of its aim to deliver value and serve its customers.
Most recently, Iconex has specified Martin MBS butt splicers for new converting lines installed to support the company's growth in innovative labels. Speaking from more than 12 years of label industry experience, and 34 years in manufacturing, Price notes that a Martin splicer on a label press typically reduces waste by 40% and increases production by 12% when compared to presses without automatic splicing. Also, on the label side of Iconex's business, investments in Martin non-stop splicing technology include MBS models fitted to ETI Cohesio lines, with one splicer for face stock and one for liner on each. "At Martin, we always listen closely to our customers' precise requirements and deliver technology to match. That we are still doing so here at Iconex after three decades illustrates the degree of mutual trust and reliable performance of our machinery," explained Martin Automatic Regional Sales Manager, Craig Thomson. This reference to reliability is echoed by Wesley Stone, Iconex Plant Manager: "Martin has been a great business partner to Iconex. The reliability of their equipment represents best in class. Their proven technology is key to minimizing waste and downtime, and maintaining our Martin equipment with their help and support keeps it running well."
Martin Automatic has always approached machine design from a 'KIS' (Keep It Simple) standpoint, even with its most complex technology, relying on basic physics for reliable operation. And it's this approach to problem solving that appeals to so many international OEMs, who are happy to integrate the assured performance of Martin equipment with their own, knowing that it will enhance their own brand's reputation.
The Iconex coworkers who use the Martin splicers on a daily basis attest to their reliability. Senior Operator Edward McLean commented: "I like how easy it is to manipulate the rolls. The splicer itself is straightforward to set and align the two webs for splicing. Other than routine maintenance, it needs no attention from me." Press Operator Renea Smith who has been operating the Martin for two years added: "I'd say it saves five to ten minutes per roll change compared with manual operation and takes me only three minutes to set it up on the line I run. I found it easy to learn, and there are no issues switching web widths - it's seamless."
Thomson added: "Our MBS butt splicer, which is the model that Iconex has fitted to a variety of production lines, is designed as a very flexible tool. In standard configuration it can handle web widths up to 26" and roll diameters up to 50", but we can customize it to suit different process requirements, running a variety of substrates from paper to film, laminate, and board." With the global pandemic having had a 'turbo-charged' effect on demand for variable information receipts and labels, Iconex is operating on all cylinders to meet customer demand. "Shopping habits were already evolving thanks to the Internet, but the pace has accelerated at a rate nobody could have predicted. It's at times like this that you need to have suppliers you can work with closely," explained Rob Epler, Iconex Vice President of Label Operations, adding: "You can't go anywhere these days without seeing an Iconex product. That's the volume the company produces, so production machine reliability must be assured."
In today's world, sustainability rivals productivity in terms of importance, but of course the two are in fact complementary. Iconex is well aware of its social and environmental responsibilities in this sphere and takes great care to ensure that its investments in technology are all aligned with an ethos of sustainability. It's here that the company values the support of Martin Automatic, whose mantra has always been to increase production efficiency and reduce waste, and these two principles chime well with Iconex's approach to packaging that focusses on the three 'Ps' - People, Planet, and Performance.
Iconex invented the paper receipt over 100 years ago and its ongoing work in labels and business solutions has seen its network spread worldwide. It has plants in seven US states as well as in Mexico, and the UK. With a total workforce now of more than 500, Iconex is acknowledged as one of the industry's major players, so the company is well positioned for sustainable long-term growth with increased efficiency and a reduction in waste, thanks to the integration of the Martin splicers.