Australian printer purchases equipment from Martin Automatic
Posted: November 07, 2008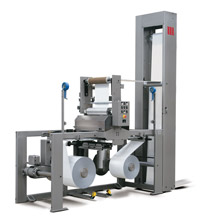 Martin Automatic's MBSF automatic butt splicer.
Pemara Labels of Melbourne, Australia recently purchased equipment from Martin Automatic. As with most printers, they are constantly being pressured to reduce prices, while maintaining or improving their quality, and they found one key to their improvement with an MBSF automatic butt splicer and an LRD automatic rewind from Martin Automatic.
The challenge for Pemara was that they have a very diversified operation and their customers require a variety of printing methods including screen, off-set and digital. They needed versatile equipment that could be a work horse and found their answer in the Martin equipment. The splicer/rewinder combination will be placed on a Gallus press.
"Given Australia is a long way from America, we needed to make sure we have equipment that we can rely on. There are only a few suppliers that manufacture products that suit our presses and Martin Automatic is a recognized and reputable supplier" reports Andrew McNamara of Pemara Labels.