Martin Automatic helps General Labels find more capacity
Posted: December 15, 2012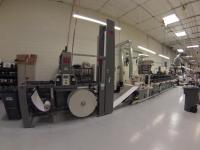 Martin MBSF butt splicer on a new thirteen inch Nilpeter SG3300 press
With the addition of a new Martin MBSF butt splicer on a new 13" Nilpeter SG3300 press, El Paso, Texas-based General Labels increased their production throughput by nearly 40%.
Jose Gerardo, President of General Labels, said, "We needed to increase our hourly throughput and we also wanted to reduce our scrap. There are two sides to that coin--one was the elimination of manual roll changes which required us to stop every time we had to change a roll. The other was consistency in our ink lay-down. We're now running one long continuous run without having to stop. Before we added the Martin, we could only do about 160 thousand pieces with a 10-inch repeat and now we can approach a quarter of a million per day. And we're doing that with less equipment."
The majority of General Labels' products are shipped within the United States. Then in many cases, they are exported to Mexico where they are applied to the end product and repackaged for shipment back into the United States. About 20 to 25% of their products are shipped to other countries, such as Japan, Korea and China, where they are added to subcontracted goods and sold worldwide.
"Labels are the least important product that we supply-service is the most important thing that we deliver."
Mr. Gerardo continued, "Most of our customers are truly world-class manufacturers, and they expect the same commitment out of their vendors. Part of our marketing plan is to give them exactly what they want-not only what we do, but what they want. That has paid us big dividends. Labels are the least important product that we supply-service is the most important thing that we deliver. We work to become a valued link in our customer's supply chain rather than just being another vendor. We look at their business model from their perspective, not ours, and we work to provide added value within the relationship."
General Labels became ISO 14001 certified two years ago and wanted to improve their "green" performance. With certification came the requirement that their products were being produced with as little environmental damage as possible. The addition of the more efficient Nilpeter SG3300 helped reduce changeover and make-ready waste going to landfill.
Margins are tight these days and the used equipment market is booming because so many of the smaller shops have gone out of business. "You can pick up a used press for a good price, but you're still looking at situations where short runs of 1200 to 1800 feet on a conventional press will generate 600 to 700 feet of waste (about 40% of run). With newer technology you're only scrapping only about 70 feet of materials and that makes your margins considerably better. Newer technology is simply better for business and better for the environment," noted Mr. Gerardo.
The new Martin Automatic MBSF butt splicer made an even greater contribution by eliminating the waste generated by stopping the press for roll changes. Mr. Gerardo stated, "We selected Martin Automatic because of their reputation, engineering and dominance in the industry. We liked the fact that they have experience in a wide range of industries so there are very few surprises for them."
General Labels is now focusing on longer runs rather than shorter runs because of the expanded capabilities of this new press supported by their Martin splicer. Instead of stopping every 13,000 or 14,000 feet for a roll change they can now run continuously, and, as Mr. Gerardo noted, "continuous running delivers much higher quality." The company recently purchased a Jetrion digital press to handle their short-run demands.
Several of General Labels' customers have seen enough value in the relationship that they have entered into multi-year contracts. In fact, the company recently signed a five-year contract with one of their largest customers who realized that their purchasing job becomes easier when they eliminate a lot of the variables.
Mr. Gerardo concluded, "Considering that we've only been in business about fifteen years, we are a relatively new company in our region. However, we've grown into being the largest printer in the area by about two fold. More importantly, we get a lot of recognition from our customers, and there's no better voice to let you know when you're doing a good job.