Acucote Relies on Automatic Roll Change for Custom Coating Succes
Posted: May 14, 2012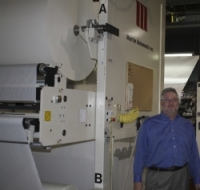 Acucote's Martin Automatic ECPF splicer is on course for an 18-month payback on investment
After installation of the latest automatic unwind splicer at custom adhesive coater Acucote, the company's vice president of manufacturing, Paul Sanborn, discusses the role of non-stop automation and the importance of addressing technical questions with equipment suppliers.
Coating and laminating lines run best, well, when they run. Downtime due to unreliable splicing is extremely costly in terms of waste and productivity, so robust, dependable automatic roll change is a given for an efficiency-minded company.
One such company is Acucote Inc. of Graham, NC. Acucote prides itself on providing custom solutions, so it wasn't surprising that they set out to create their own custom coating and laminating lines, complete with automatic roll change. Paul Sanborn, VP of Manufacturing, relates how his predecessor put together their first line.
"We tried to develop our own 'home grown' solution for an unwind, but that didn't give us the desired results and ended up being very problematic," says Sanborn. "Acucote knew of Martin Automatic's reputation in web handling and approached them for a non- stop splicer. Initially, the Martin salesperson asked a ton of questions; some of them we answered, and some, frankly, we didn't. The first splicer and infeed we bought, 14 years ago, was a fine piece of equipment. But it wasn't surprising that, because we didn't fully answer their questions, it didn't perform quite as we expected."
Acucote learned their lesson, Sanborn says. "All the questions Martin asks-there's a good reason for them. It's why their equipment is so well-engineered, and I appreciate that, since I have an engineering background."
Working with Martin engineers and technical sales, Acucote equipped their adhesive coating lines with Martin splicers for both the wet and dry unwinds, and with Martin automatic transfer rewinders. "They are the best engineered pieces of equipment in our plant."
The Graham facility operates 24 hours a day, 5 to 6 days a week. Founded in 1987, the company previously did a large quantity of commodity work. In recent years it has focused on "customer generated opportunities," providing custom applications that do not fit other suppliers' "stock lists."
As part of its mission to provide technically complex, high value self-adhesive products, the company runs a wide variety of substrates, including paper, paperboard, film and fabric. With many jobs averaging 5,000 feet, frequent material changes are necessary. "And when we are adding adhesive to this range of substrates, changing jobs from one to the next can be quite challenging, "Sanborn notes. "The Martin splicers and rewinders have no problem accommodating the diversity of substrates and making roll changes without any hiccups."
Recently, to improve uptime and reduce waste on a silicone coating line, Acucote replaced an existing unwind with a new Martin ECPF automatic splicer. Sanborn says they are on target for an 18-month payback on the splicer, "and that is just from waste savings. We've also seen significant improvements in our production as well as a more consistent end product from not having to slow down and speed up the line at roll changes."
With the addition of this latest automatic splicer, Sanborn happily reports that Acucote doesn't have a single piece of full-web unwinding or rewinding equipment that is not supplied by Martin Automatic.