MARTIN SPLICER IMPROVES EFFICIENCY OF ABG LINE TO BOOST BUSINESS
Posted: July 24, 2013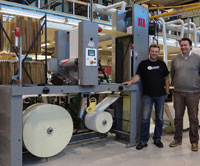 (Left to right) Thor Jorgen Kasbo and Tom Bulow-Kristiansen of NorStamp with Joakim Marcusson of Convertec, who supplied the Martin splicer.
"The installation of a Martin Automatic splicer has made our prices more competitive by cutting waste and improving accuracy and quality," stated Tom Bulow-Kristiansen, Sales Manager of the Labels Division at Norwegian converter NorStamp. The Martin splicer, an MBSC model, is fitted to an ABG Omega ATR label finishing line at the company's plant in Stokke, about 100 kms south of the country's capital, Oslo. According to Bulow-Kristiansen: "Since we fitted the Martin to the ABG equipment, our blank label throughput has grown from 20 million to 48 million labels per year because we can run non-stop with higher production speeds. And, the quality has improved too because the Martin has given us better tension control on the web."
The ABG equipment offers label-finishing techniques such as die cutting, and runs mainly reel-to-reel into an Omega ATR (Automatic Turret Rewind) at speeds of around 185 metres/minute. "The Martin allows us to run 3000 metre rolls continuously, which equates to about 15,000 to 18,000 metres a day. This has more than doubled our output. Less downtime, less waste, greater accuracy, and a consistent quality splice all make for better margins - the Martin has transformed our production here," he added.