Converter Gains Quality, Production and Efficiency With Butt Splicer
Posted: August 16, 2011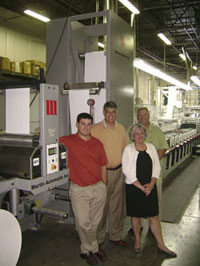 Pleased with the benefits of their Martin splicer are: Aaron Trebnick, sales; Gregg Trebnick, R&D; Linda Trebnick, president; and Klaus Kok, consultant.
Trebnick Systems, a family-run specialty-products flexographic printer in Springboro, OH, recently installed an automatic splicer from Martin Automatic. Purchased at the 2010 Labelexpo Americas show, the MBSF butt splicer was put into service on a Mark Andy P-7 flexographic press running supported and unsupported film and other products.
Gregg Trebnick reports that the splicer has reduced their material waste in several ways. "Before the Martin, we'd lose at least 300 feet of web at a manual splice getting back into register; the non-stop splice doesn't affect auto registration at all. In terms of core waste, with the Martin, we're able to run down to nothing on the core."
Trebnick also notes that they have started using up partial rolls from inventory, something they could not do efficiently before adding the splicer.
He concludes, "We're getting higher quality and more production. The Martin butt splicer turns that into dollars for us."