Keller Crescent Adds Martin Splicer to New Press
Posted: July 11, 2011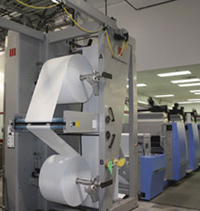 Martin Automatic ECP splicer increases productivity on the Muller Martini Alprinta press.
Pharmaceutical printer and converter, Keller Crescent, installed an ECP splicer from Martin Automatic at their Greensboro, NC, location. The splicer provides non-stop unwinding to a new Muller Martini Alprinta offset press. The new press and splicer are used to print literature for pharmaceutical packaging.
Keller Crescent runs Martin splicing equipment at other of its US facilities, but this is the first splicer for the Greensboro plant. "We chose the Martin splicer on the recommendation of the press supplier that it was the right machine for the work we need to do," reports Jimmy James, Press Manager.